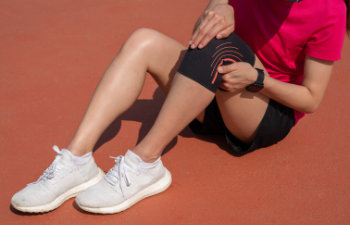 The knee joints are exposed to excessive wear and tear from injuries and normal function. It is estimated that 600,000 knee joint replacement surgeries are performed yearly due to severe osteoarthritis and damage that causes chronic pain and limited function. There are various knee replacement procedures, including partial and total options. If you have knee joint pain that is no longer responding to conservative treatments, you may be a good candidate for partial knee replacement surgery.
Difference Between Partial and Total Knee Replacements
Total knee replacement (TKR) has been used for decades and is the most common type of knee replacement. It replaces all three compartments of the knee, the medial (inner), lateral (outer), and patellofemoral (front). For many patients with osteoarthritis, this is needed as there is extensive wear and loss of cartilage in more than one compartment of the knee.
Only one compartment is replaced in a partial knee replacement, also called a unicompartmental arthroscopy. This is a less invasive procedure as it does not remove specific ligaments and retains more of the natural knee structure. While it is performed less often, the advances that have been made, especially with robotic-assisted procedures, are making this procedure more popular for knee replacement.
Benefits of Partial Knee Replacement Over TKR
There are many reasons patients seek a partial knee replacement over TKR. The "less is more" approach is enticing as patients retain more natural movement and fewer complications from replacement parts. There are some excellent advantages to performing partial versus total knee replacement, including:
Most procedures can be performed on an outpatient basis
Shorter recovery time – most patients are off crutches in several days
Less pain and reduced complications
More natural movement post-surgery
Improved range of motion and more flexibility post-surgery
While these may sound like wonderful benefits, not everyone is suitable for partial knee replacement surgery. Resurfacing only one knee compartment is insufficient for many patients with extensive knee joint damage.
Qualifications for Partial Knee Replacement
Dr. Farzin Kabaei is one of the country's top robotic knee replacement specialists and one of the few specializing in robotic partial knee replacement. Dr. Kabaei carefully evaluates every patient to determine the best knee joint replacement procedure for them. Some of the factors Dr. Kabaei will consider when examining and consulting patients for knee replacement include:
If only one knee compartment is damaged
The activity level and lifestyle of the patient
Weight – heavy or obese patients may not be good candidates for partial knee replacements
Range of motion before surgery
When, where, and how much pain the patient experiences
Dr. Kabaei takes the time to carefully discuss all options with each patient considering knee replacement. He will offer his recommendation and help patients determine whether the procedure is right for them.
If you have chronic knee pain and want to explore whether a total or partial knee replacement may be correct for you, contact us at Robotic Hip and Knee Replacement LA. Call our office to book your appointment with Dr. Kabaei for a knee pain consultation.