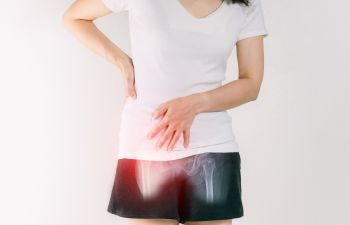 Hip pain can make daily life challenging and uncomfortable. Treatment options can vary depending on the cause and severity of symptoms. If you are experiencing chronic pain, you may be concerned that surgery may be in your future. However, there are other interventional methods available that can help you feel better and get more active. Here are three effective non-surgical treatment options to help you achieve hip pain relief.
Oral Anti-Inflammatory Medications
Oral anti-inflammatory medications are often the first line of defense for hip pain relief. This treatment option works to reduce inflammation, nerve irritation and pain. Many over-the-counter medications can be effective for mild pain.
Your doctor may prescribe stronger anti-inflammatory medications for severe symptoms. You may experience complications with this treatment option if you have stomach issues or are taking blood thinners. Make sure to consult a doctor before taking any medications to help prevent unwanted side effects or complications.
Physical Therapy
Physical therapy can help provide hip pain relief by strengthening muscles and improving flexibility. Regular exercise can reduce excess body weight placing pressure on the hips. Issues with proper posture and alignment causing pan can be addressed for smoother hip movement. A physical therapist can recommend the best exercise program to help you feel better. Consult with your doctor to get a recommendation for a physical therapist in your area to help you get relief.
Steroid Injections
Steroid injections can temporarily provide hip pain relief in mild to moderate cases. Swelling and inflammation can be significantly reduced over time with a few treatments in a year. This treatment option is typically ideal for individuals who are not eligible surgery candidates or who have exhausted other potential treatment options. Injections target specific muscles and joints with noticeable results within a week.
Effective Orthopedic Care for Hip Pain Relief
Debilitating hip pain can affect your quality of life and emotional well-being. Seeking early treatment can help prevent long-term health issues and the need for surgery. Robotic Hip and Knee Replacement LA specializes in effective orthopedic care treatments and advanced surgical options for a wide range of hip conditions. Call to request a consultation today to discover the best treatment option for your needs.