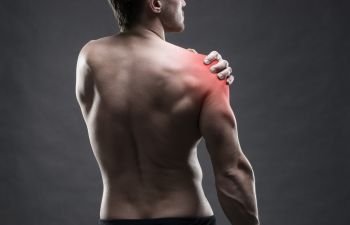 Adhesive capsulitis (better known as frozen shoulder) can stem from injury, restricted mobility or a medical condition. For many sufferers, the process of reaching what is commonly described as a frozen shoulder is slow.
This is because adhesive capsulitis typically occurs in stages. What seems like a flareup may actually represent the second of three stages: Freezing, frozen and thawing. Before you reach this stage, there are symptoms that will indicate the escalation.
Stage One – Freezing
During the freezing stage, which can occur over several months, symptoms will vary in severity. The onset of stiffness and pain are the two main symptoms and are most noticeable. However, another symptom that is often missed is the ability to easily raise the affected arm above the head.
Stage Two – Frozen
When the second stage is reached, pain and discomfort will worsen. The shoulder is now effectively frozen and range of movement is severely limited. These symptoms can last for days, weeks and even months without relief. Unfortunately, sufferers are not out of the woods when symptoms begin to ease.
Stage Three – Thawing
As inflammation in the shoulder goes down, the nature of pain and discomfort will change. It is not unusual to experience symptoms such muscle spasms, throbbing or sharp pain and a crunching in the shoulder joint as the arm is moved. By the time these symptoms have all but disappeared, the process often repeats from stage one.
Frozen Shoulder Treatment
At his Los Angeles offices, Dr. Farzin Kabaei recommends conservative treatment as an initial approach to providing relief from a frozen shoulder. Physical therapy, anti-inflammatory medications and steroid injections may reduce or eliminate symptoms. If the condition persists or becomes chronic in nature, surgery can release the frozen shoulder.
To learn more about frozen shoulder symptoms and available treatments in LA, call the offices of Dr. Farzin Kabaei MD for a consultation today.